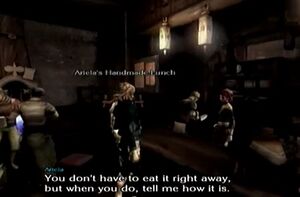 This side quest can be started after Chapter 7.
To start you must follow the eastern side of the river to the east of the Central Plaza, where you'll find a child complaining about his hunger. Return to Ariela's Tavern and she'll give you one of her meals. Return to the child and he'll give you a towel.
Take the towel to a sweaty guy on the Artisan's way and he'll give you a book called The Art of Magic. Take the book to the Lazulis Castle (after Chapter 8.) In the library a child named Uril will change the book with another called Rules of Nobility. In the Castle's Plaza you'll find a women on some tables to the northwest that will swap the book for Precious Jewel.
Return to the Castle. On the second floor's hall will be a lady that will trade Zoran's Voyage Log for it. During Chapter 19, after being named a knight, go to the Dungeon. You'll find Zoran in a cell, and he'll give you his sword in exchange for the log.